Working in the craft tradition we design and manufacture new stained glass to commission for ecclesiastical, public and private buildings. From concept to installation we pride ourselves on developing a good understanding of the particular nature and requirements of the project and on high quality workmanship.  We have a long experience of collaboration with other artists to realise their designs;  we are proud of these rewarding relationships, some of which have been on-going for many years.

The conception of new stained glass for an ecclesiastical setting draws together a variety of strands of reference; The significance of the particular window, the wishes of the donor and church community, the architectural style of the church,  the style and nature of other stained glass windows, particularly those adjacent to new work and the desired quality of the transmitted light.  We always consider carefully the impact of the new stained glass and work hard to ensure that it will be an uplifting contemporary addition to the building marking its moment in the life of the church whilst remaining in keeping with the atmosphere of the building.

We have worked with many artists over the  years and are very proud of these collaborations and the stained glass projects that have been realised together.  We spend time at the beginning of the project to discuss and understand all the elements of the design and  concept so that we can choose the best materials and techniques to interpret their vision successfully.
18th and early 19th century stained glass has particular decorative qualities which we have many years of experience in replicating. We work with interior designers and architects to specification or can advise on suitable colours and authentic decorative details and motifs for classical interiors. 
We supply cylinder glass for sash windows and antiqued mirror glass for interiors.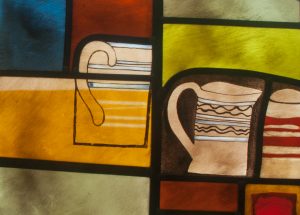 We work with private clients to produce stained glass to meet the particular needs of their interior. This may be a simple scheme of clear or coloured glass, a sandblasted panel or an original stained, etched or sandblasted glass scheme designed especially for the client.